Exciting new way to stand out from the crowd. Elegant 3mm rods are suspending from the ceiling. you can then suspend the light pockets to create an interesting, eye catching design.
This style is ideal for small traditional windows where you do not want to fix to a window ceil.
This floor is left free for you to position a low level display.
Single suspended panels can be used as logo panels, and look extremely effective.
All power will need to be taken from ceiling level.
We stock cable/rod fittings ranging from 1.5mm to 10mm for more information please take a look in the menu.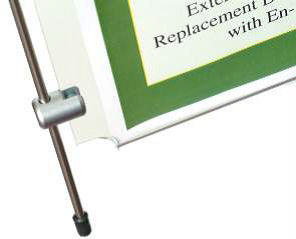 Top fixing can be wall mounted or ceiling fixed.
The top fixing hinged so that it can easily be moved, to allow access for window cleaners is fitted close to the window.
A4 Portrait
Compact
Deluxe
2
KRLA4P-2-V4
KRLA4P-2-V2L
MR3-A4P-2-V2L
£201
£239
£175
3
KRLA4P-3-V4
KRLA4P-3-V2L
MR3-A4P-3-V2L
£277
£344
3263
4
KRLA4P-4-V4
KRLA4P-4-V2L
MR3-A4P-4-V2L
£371
£447
£351
A3 Portrait
Compact
Deluxe
1
KRLA3P-1-V4
KRLA3P-1-V2L
£155
£179
2
KRLA3P-2-V4
KRLA3P-2-V2L
£263
£311
3
KRA3P-3-V4
KRLA3P-3-V2L
£371
£443
A3 Landscape
Compact
Deluxe
1
KRLA3L-1-V4
KRLA3L-1-V2L
£155
£179
2
KRLA3L-2-V4
KRLA3L-2-V2L
MR3-A3L-2-V2L
£263
£311
£247
3
KRLA3L-3-V4
KRLA3L-3-V2L
MR3-A3L-3-V2L
£371
£443
£371
4
MR3-A3L-4-V2L
£495
A2 Landscape
Compact
Deluxe
1
KRLA2L-1-V4
KRLA2L-1-V2L
£246
£326
2
KRLA2L-2-V2L
KRLA2L-2-V2L
MR3-A2L-2-V2L
£426
£568
£512
3
MR3-A2L-2-V2L
£754
A2 Portrait
2
MR3-A2P-2-V2L
£512
3
MR3-A2P-2-V2L
£754